"Moi Aussi" Artist Book. Sophie Calle
Normal edition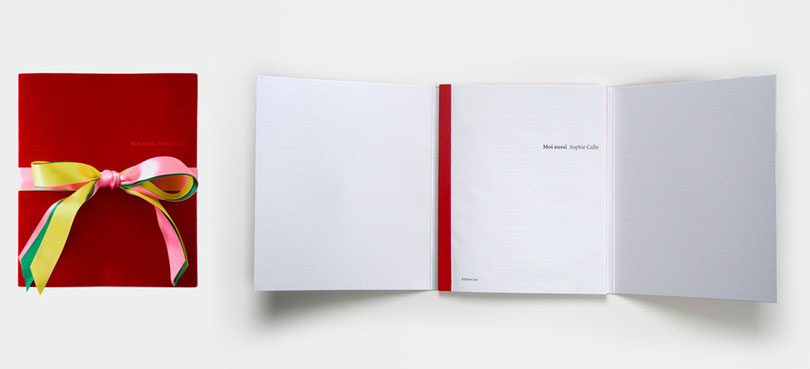 Description
'''Since 1980, I kept my birthday presents and I continued this rite during fourteen consecutive years. That is to say, almost like during the two seven-year terms of François Mitterrand's presidency. François Mitterrand created the «Musée du Septennat» in 1986 to exhibit the presents he received as a President during his two seven-year terms (1981-1995). Thus, fourteen years. Having a year lead, I thought to title this book «Lui Aussi». But due to his office and the number of our respective presents - about 318 for me, and about 4700 objects and 18000 books for him, I inverted the order. The choice of the photographed presents in this book is not related to their symbolic importance, or to their value, or to François Mitterrand's preferences.They are a personal selection.'' – Sophie Calle


19 x 23,5 cm, Portrait format, Red velvet cover, 80 pages.
Text in French.
Japanese stab binding, perforated fold.
Closed by three satin ribbons, knotted around the book. With its cover in three sections, it opens like a case.
Two kinds of papers :
- A rose paper for the François Mitterrand's presents. The visible pages show the exhaustive list of the presents offered to the President each year, whereas the Japanese stab binding hides a selection of images of some presents.
- A white paper for the Sophie Calle's presents. The visible pages show the exhaustive list of the presents offered to the Artist each year, whereas the Japanese stab binding hides the pictures of the displays showing her presents.

Release date: 3rd Quarter 2012

ISBN: 978-2-918074-03-8
 
Price: 65 €

Click to view high definition images.
Me too, I know how to make a knot! in 14 steps...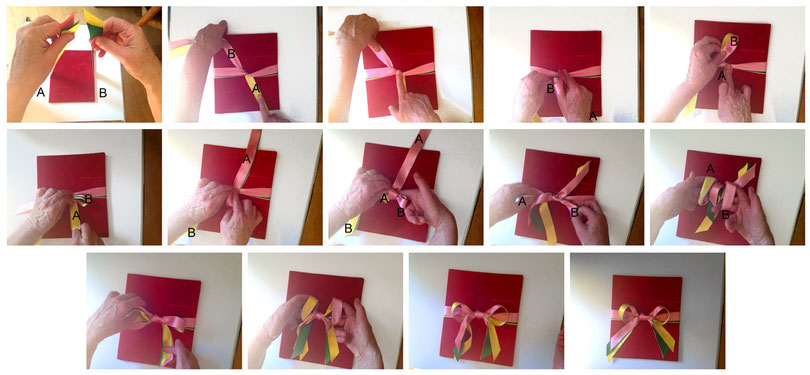 Adjust the ribbons so that the length is the same on both sides.
Tie a knot in the middle, A ribbon passes over B.
Hold this node while making a loop with the B ribbon, pink above.
Push through the A ribbon on the preformed node.
Slide the A ribbon between the node and the B loop and make the second loop (yellow).
Tighten the knot with the two loops, then expand these loops.
Slide the ends of the ribbons under the loops of each side.
Replace the two loops upwards and the two ends downwards.